The New 2017 LIFE Ionizers™ M7 Next Generation Undercounter
The new Next Generation Life Ionizers™ M Series is the most powerful 7 plate water ionizer in the world!
New 2017 Heavy-Duty GRID Plate Technology with MAX Coat: 8 layers of Platinum over Industrial Titanium
MAX Yield SMPS Power System™ - generates up to 252 to 450 watts*
Dual internal filters with custom pre-filter system
New Larger ultra-efficient electrolysis chambers
The NEW Next Generation Life Ionizers™ M-7 UC outperforms the top-of-the-line models of all its competitors! With its all new Max Yield™ power system and 7 Max Plates™, the Life M7 UC provides the highest ORP at a drinkable alkaline level of any mid-range ionizer available. Only the M9 Next Generation outperforms it.
Watch the Max Yield™ power system in action: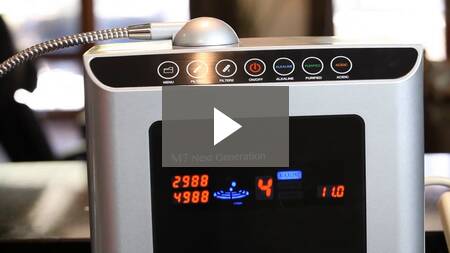 pH range from 2.5 ph up to 11.0 pH
Antioxidant potential (-ORP) levels can adjust up to -700
The video below demonstrates the 2.5-11.0 pH range, and Antioxidant potential (-ORP levels) reaching -700.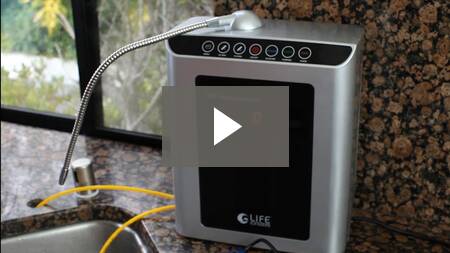 The M-7 UC Next Generation easily outperforms the Enagic/Kangen® Water machine - which costs almost twice as much! You simply get twice the ionizer for about half the cost! The Next Generation M7 UC replaces Life's 7700 UC model. It is a ground up, complete redesign that takes advantage of the latest cutting-edge technological advances in water ionizers to produce breakthrough performance!
This undercounter ionizer is fully convertible to countertop use - A valuable feature if you like to travel and want to take your ionizer with you!
One thing that Life didn't change is their world-class commitment to water purity. The Next Generation M-Series comes with two internal filters that feature Life's laboratory-grade Vitamin C Ceramic Block® filtration - the best protection you can get from chlorine and chloramines. Plus, Life analyzes your local water quality report to find out which contaminants are in your water. They use this information to give you a free pre-filter system that protects you from those pollutants.
Life Ionizers™ is also the only ionizerthat you can get with effective fluoride filtration! Simply ask for Life's lab-tested Fluoride Super Filter. It will be included as your pre-filter.
Life Ionizers™ completely redesigned their faucet for their under the counter ionizers
Solid, stainless steel construction
Large, easy to use controls built into the faucet
Easy to read display lets you know what kind of water you're getting
Features of the M-7 you will love:
Lifetime warranty on parts plus 10 years on labor
Sleek new design
Converts easily between countertop use and under counter use
Designer-style stainless steel faucet complements the look of your kitchen
Features We Like 
Powerful machine utilizes MAX Yield SMPS Power System™
Equipped with 7 large Titanium/Platinum MAX Plates™.
2nd highest anti-oxidant potential at a drinkable pH of any machine we have ever tested!
Ability to be installed countertop or under counter.
Custom filtration removes the maximum amount of contaminants from your water. This leaves you with the cleanest and healthiest water available! Life Ionizers™ will customize their filtration system depending on your area, this is an important feature - and it ensures your alkaline water is purified better than the competition.
Warranty and strong company backing! EarthTrade Water, the manufacturer of Life Ionizers™, has been around for over 17 years and offers lifetime warranties!
This unit has voice-active integration to notify you of your water's current pH balance.
The New 2014 Life Next Generation M-7 UC has power and features that you can't find in competing top-of-the-line ionizers. The incredible new Next Generation M7 UC rates a "best value" in our book!